This meme is hosted over at Lipsyy.
Welcome to This Week in Books, where we share what we've been up to in bookland this week and look ahead to next!
---
NOW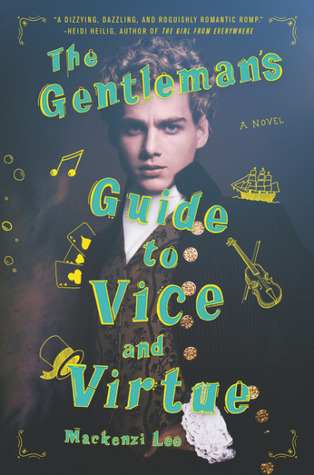 Henry "Monty" Montague was born and bred to be a gentleman, but he was never one to be tamed. The finest boarding schools in England and the constant disapproval of his father haven't been able to curb any of his roguish passions—not for gambling halls, late nights spent with a bottle of spirits, or waking up in the arms of women or men.
But as Monty embarks on his Grand Tour of Europe, his quest for a life filled with pleasure and vice is in danger of coming to an end. Not only does his father expect him to take over the family's estate upon his return, but Monty is also nursing an impossible crush on his best friend and travelling companion, Percy.
Still it isn't in Monty's nature to give up. Even with his younger sister, Felicity, in tow, he vows to make this yearlong escapade one last hedonistic hurrah and flirt with Percy from Paris to Rome. But when one of Monty's reckless decisions turns their trip abroad into a harrowing manhunt that spans across Europe, it calls into question everything he knows, including his relationship with the boy he adores.
---
I'm just over halfway through the audiobook of The Gentleman's Guide of Vice and Virtue, and I am loving it! The writing is hilarious and brilliant, and the narrator does a wonderful job of portraying Monty's voice. Plus, Monty and Percy are the most adorable thing ever!
---
THEN
Lacey Chu has big dreams of becoming a companioneer for MONCHA, the largest tech firm in North America and the company behind the  "baku" – a customisable smart pet that functions as a phone but makes the perfect companion too. When Lacey finds out she hasn't been accepted into Profectus – the elite academy for cutting edge tech – it seems her dreams are over. Worst of all, rather than getting to choose one of the advanced bakus, she's stuck with a rubbish insect one. 
Then, one night, Lacey comes across the remains of an advanced baku. Once it might've been in the shape of a cat but it's now mangled and broken, no sign of electronic life behind its eyes. Days of work later and the baku opens its eyes. Lacey calls him Jinx – and Jinx opens up a world for her that she never even knew existed, including entry to the hallowed halls of Profecus. Slowly but surely, Jinx becomes more than just a baku to Lacey – he becomes her perfect companion. But what is Jinx, really? His abilities far surpass anything written into his code or built into his motherboard. He seems to be more than just a robotic pet. He seems … real.
---
Jinxed was September's book club pick, and not one I would have picked up myself. I didn't find it to be that engrossing… The writing was ok, and the plot predictable. I didn't particularly like any of the characters, but I can feel Lacey's pain at having to deal with a rebellious cat! It ended on a cliffhanger, but I don't think I'll pick up the next instalment.
---
NEXT
Princess Lira is siren royalty and the most lethal of them all. With the hearts of seventeen princes in her collection, she is revered across the sea. Until a twist of fate forces her to kill one of her own. To punish her daughter, the Sea Queen transforms Lira into the one thing they loathe most—a human. Robbed of her song, Lira has until the winter solstice to deliver Prince Elian's heart to the Sea Queen or remain a human forever.
The ocean is the only place Prince Elian calls home, even though he is heir to the most powerful kingdom in the world. Hunting sirens is more than an unsavoury hobby—it's his calling. When he rescues a drowning woman in the ocean, she's more than what she appears. She promises to help him find the key to destroying all of sirenkind for good—But can he trust her? And just how many deals will Elian have to barter to eliminate mankind's greatest enemy?
---
Next on my TBR list is To Kill A Kingdom, and I. CANNOT. WAIT. I love fairytale retellings and this one promises to be a pretty good one. Murderous mermaids? YES PLEASE!
---
Now it's your turn! What have you been reading this week? Leave a comment/link and I'll do my best to take a look.