This meme is hosted over at Lipsyy.
Welcome to This Week in Books, where we share what we've been up to in bookland this week and look ahead to next!
---
NOW
Gemina by Amie Kaufman and Jay Kristoff
Hanna is the station captain's pampered daughter; Nik the reluctant member of a notorious crime family. But while the pair are struggling with the realities of life aboard the galaxy's most boring space station, little do they know that Kady Grant and the Hypatia are headed right toward Heimdall, carrying news of the Kerenza invasion.
When an elite BeiTech strike team invades the station, Hanna and Nik are thrown together to defend their home. But alien predators are picking off the station residents one by one, and a malfunction in the station's wormhole means the space-time continuum might be ripped in two before dinner. Soon Hanna and Nik aren't just fighting for their own survival; the fate of everyone on the Hypatia—and possibly the known universe—is in their hands.
But relax. They've totally got this. They hope.
---
I'm over halway through the audibook of Gemina, and just like Illuminae, it is MIND BLOWINGLY PERFECT. The books on their own are magnificent, but holy crap the audiobooks are something else.
Can you fall in love with a voice? Cause I'm ready to have Nik's voice's babies. If you have not yet listened to the Illuminae audiobooks, STOP READING RIGHT NOW AND GO LISTEN!
---
THEN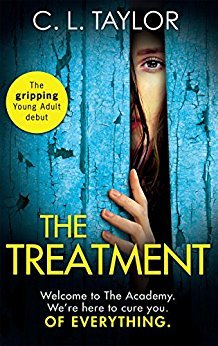 All sixteen year old Drew Finch wants is to be left alone. She's not interested in spending time with her mum and stepdad and when her disruptive fifteen year old brother Mason is expelled from school for the third time and sent to a residential reform academy she's almost relieved.
Everything changes when she's followed home from school by the mysterious Dr Cobey, who claims to have a message from Mason. There is something sinister about the 'treatment' he is undergoing. The school is changing people.
Determined to help her brother, Drew must infiltrate the Academy and unearth its deepest, darkest secrets.
Before it's too late.
---
The Treatment was actually an ARC I got last year and never got around to reading. This is both Taylor's YA debut and my first ever novel by her. I have mixed feelings about it, but I'll go into it a bit more in my review later this week.
---
NEXT
The Lost Witch by Melvin Burguess
Bea has started to hear and see things that no one else can – creatures, voices, visions. Then strangers visit Bea and tell her she is different: she has the rare powers of a witch. They warn her she is being hunted. Her parents think she is hallucinating and needs help. All Bea wants to do is get on with her life, and to get closer to Lars, the mysterious young man she has met at the skate park. But her life is in danger, and she must break free. The question is – who can she trust?
---
The Lost Witch was the featured book in The Book Club Box for August, and it sounds just like my cup of tea coffee! I'm going to pick this up as soon as I finish Blackwing, hopefully I'll finish it before the chat next month with Burguess!
Now it's your turn! What have you been reading this week? Leave a comment/link and I'll do my best to take a look.